Frequently Asked Questions
Interview: usfishfinder.com
Walking through the aisles of any major fishing retailer, you'll find products from a few dozen major brands, but there are many other companies who make amazing products that don't make it into the big stores, or choose to sell their products online. With the world being a little weird right now and expos and conventions cancelled across the country, we've decided to start a series of interviews with some of these smaller brands. Last week I had the pleasure of speaking with Jim Marco, Co-Owner of Loaded For Bass about his company and products.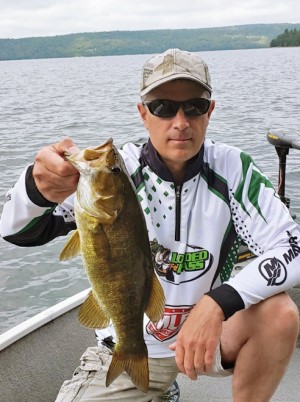 Hi Jim, thank you for taking the time to speak to us. Can you tell us a little bit about your company and your products?
Thank you for giving us the opportunity to share our story and tell all your subscribers about our company and product line. Loaded For Bass is a small business that designs, develops and sells jig trailers, scent and Power Finesse Spinnerbaits. Being fishing freaks and getting on out the water every possible chance we can, it really helps with putting our products to test and thus providing anglers the best possible products.
Where did the idea for the Sudden In-Pact trailers come from and what makes them different then other trailers on the market?
As we all know, pork trailers have been around for a very long time. When the soft plastic market took-off, it launched like a rocket and has kept on that upward trajectory and the pork trailers definitely got left behind. Like everyone else, we started using soft plastic type chunks and after going through a bag quite quick, that's when the idea hit; we wanted to offer anglers another jig trailer alternative to the soft plastics that had all the durability and scent holding capabilities we liked about the pork, but without the worry of the trailers drying out or needing special care like the traditional pork rind. Our trailers are super tough, supple, hold a ton of scent, won't dry out and are biodegradable.
Loaded for Bass has a long history spanning over 20 years but only recently did you relaunch it in its current form. How did you and Frank decide that you wanted to start this company?
When first launched in the late 90's it was a hobby, something done on the weekends, if you will. In 2015 the company I worked 30 years for, announced it would be closing its doors and the lightbulb went off that it was time to relaunch Loaded For Bass. During the same time frame, unknown to us, Uncle Josh ceased their production because it wasn't able to obtain enough fatback to produce their trailers/products and went out of business, which then, left an open door for us in the market.
What skills from your professional backgrounds have you found to be most useful in developing and growing the business?
I believe the one single most important skill is communication. It's so important to "listen" to the angling community. From the weekend tournament anglers, to the folks picking up a rod and reel for the first time, to the Pro's on the biggest stage, having an open and honest dialog really helps grow a business.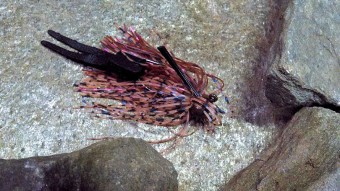 What is your process when it comes to developing new products? How long does it take to get something from concept to product?
Most of the time new product ideas come when we're on the water fishing. Sounds crazy, but here we are fishing and the "man, if this lure could just…" conversation happens or if a lure malfunctions/breaks, our minds get going 100mph and a brainstorm erupts.
As for the time it takes from concept to product, once all the R&D is completed and field testing done to get that product dialed in, we will fish that new product for an entire year to cover the various seasons, weather conditions, along with different waterbodies; lake, river, reservoir, ocean before it's available to the consumer.
Fish attractants make a huge difference. How did you come up with the scent profile for your Check your Stink fish attractant? Is there such a thing as too much attractant?
I had the opportunity to talk with the offshore commercial anglers and charters who make their living catching/selling fish about scent, and using the information they provided it gave us a good base for us to create our own natural formula.
Is there a thing as too much attractant? I personally feel, no. We have had customers soak our trailers in a jar of scent for months and when they throw them, they say it leaves a scent trail and it boosts their confidence especially on those tough days. Why not use the famous words of one Sheriff Brody from Jaws: "Slow ahead…? I can go slow ahead. Come on down here and chum some of this sh*t?"
One of the biggest challenges with any new product is getting the word out. How do you market your products and which channel have you found to be most effective?
Marketing in this day and age is huge and it does create many challenges. Just Google "Fishing Lures" and you'll get about 140 million search results. YIKES! For us, Facebook and Twitter, along with YouTube have all been an effective way to get the word out about our products and doing interviews with such websites as ctfishfinder.com
You are very active across your social media channels. How important is social media to developing your brand? Is there a channel that you like the most?
There is one word for social media; HUGE! It's the one platform where you can literally reach millions of people across the entire globe. Facebook and Twitter I'd say are the two channels we tend to lean more to, as you can personally connect with folks and as mentioned earlier have that "communication."
It also allows us to share their posts and help promote their brand as they do the same for us and it's that camaraderie we all share that helps the entire fishing/tackle industry continue to grow.
Lots of young anglers are looking to become pro staff or get sponsorships to help them grow in the sport. What do you look for when selecting pro staff or sponsoring someone?
This is probably the quickest answer you'll ever get: We simply look for folks who are excited about and believe in our products as much as we do.
Your products are available on loadedforbass.com. Are they available from any brick and mortar retailers? If so, what where the challenges in getting shelf space and how did you overcome them?
We're about 99% online and only 1% brick and mortar. We were fortunate as the few small shops we are in, they actually contacted us, so getting shelf space wasn't an issue. I love the e-commerce platform as it really helps us to keep our prices the lowest and we can run specials and discount sales easily.
COVID-19 has had an impact on most businesses and industries. How has your company been impacted and which impacts do you think are here to stay?
Covid-19 has unfortunately had a very big impact on all of our lives and has changed the way many have had to run their businesses. As mentioned in the previous question, being a 99% e-commence business, the Covid Crisis actually had very little impact on our company and we are very fortunate.
One impact COVID19 has had is on the fishing/outdoor expo venues we attend in the winter months. With most states having restrictions and guidelines with capacity limits, self distancing and such, I sadly believe those will be on hold for a very long time, and when or if they do come back, they unfortunately won't be the elbow to elbow massive crowd venues like we were used to seeing, as I have a strong feeling that capacity limits, masks and self-distancing will be here to stay.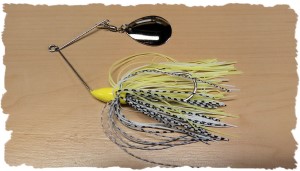 Starting a company always comes with lots of risk and it takes an entrepreneurial spirit to push through those moments of doubt. Is there a specific moment since you've formed the company that you look back at during those times to help you push forward?
Starting a company always comes with a lot of risk, along with financial stress… just watch Shark Tank and hear the stories. I honestly have to say there was never really a specific moment that was the push, but what kept me going forward, I always stuck to the business plan we had in place.
I have seen other fishing related businesses start around the same time we did and unfortunately, they lost focus and started to scatter; they sold great lures and then the next thing mugs, bikinis, beach blankets, wrist bands and all sorts of non brand products flooded their product line and they ended up folding. Keep the brand simple, find your niche and stay the course.
Fishing is full of great people that are eager to help and share their knowledge. Have there been any other companies or pros that have given you advice or had a positive impact on your business?
The outreach from other companies and pros has been part of the excitement. Bass Angler Magazine and Bassin' Magazine have both featured our products. Tackle Junkie out of Brisbane Australia showcased our trailers on the international stage through their website and that helped generate sales throughout the world. There have been several Pros that I am in personal contact with that compete in the MLF and B.A.S.S trails that are using our products and their insight is a great asset. As for who they are, I can't say as that's where the business side kicks in with confidentiality as they love to have that lure/scent that others don't for that completive edge.
What about your company has been most important in achieving the success you've had so far, and what do you see for the company over the next 5 years?
Most important aspect within our company is honesty; refuse to sell anyone our product with a belief it will perform in a way that it's not intended to do. Example: This one gentleman at a fishing expo we attended wanted that soft plastic insane wiggle action and as we talked, I pointed to a video (we have a monitor showing our trailers in action) and explained to him how our trailers are just like the old pork style trailers with a more "wave-like action." I lost a sale, but I will always be honest with folks and have them walk away informed, then have them purchase one of our products and be dissatisfied.
As for over the next 5 years, I just want the company to keep the course we're on with growing our social media presence and getting fish catching products into anglers all over the world.
Now for a fishing question. What's your go to rig and technique for Connecticut fall bass?
During the fall I like to downsize and use micro-jigs with our finesse trailer and our Crazy Gauge spinnerbaits.
Thank you so much for taking the time to answer our questions! Before I finish though, I have to know, what was it like fishing with Rambo? That video gave me a good laugh!
You are more than welcome, and "Thank You" for the interview. As for John Rambo, we tried to get him to use a reel and rod, but man, he insisted diving down getting into the cover and ambushing those bass! As you can probably see, we definitely have our own lane when it comes to our videos, you never know what you're going to see. We will always have the product information videos, along with some on the water fish catching action, and then of course the bloopers, got to have the bloopers, and the off the wall mini productions as the "Chronic Pork Shrinkage" episodes that make you say "what did I just watch?" For us here at Loaded For Bass, we have and always will take the products serious with quality and value so anglers at all levels can increase their fish catches, and after that, we're just a bunch of fishing fanatics who have a lot of fun doing the sport we all love.
As you can tell from the great answers, Jim is very passionate about his company and the products they make! Below are all the places you can learn more about Loaded for bass and of course the Rambo video! Jim was also nice enough to provide our members with a discount code which is available to our members on our fishing deals page.
*****************************************************************************************************************************
Interview: Dock Talk 365
Can I tell you how much I love custom and small bait companies? If you see my tackle boxes, you will see that I almost exclusively buy from small manufacturers, primarily
in the Northeast.
I am in no way against the bigger companies. They have a very important role in the fishing industry and for the most part, deliver quality products to anglers. But what I love about the smaller bait makers is the passion for fishing that comes through when you talk about their baits. I also love their attention to detail. They need to know that every bait that gets shipped out is of the highest quality. They simply can't afford to ship out baits that don't meet their highest quality standards.
Loaded for Bass is one of these great companies. Based in Connecticut, these guys are putting out quality baits and have a deep rooted passion for fishing, inspiring the work they do. Read to learn more about their company as well as one of the best fishing stories, ever, at the end.
What is your role with the company and what was your background before doing this?
I am co-owner of Loaded For Bass, along with my partner, Frank Gregoire. Before I took on this role, I was a logistics specialist for 30 years at an industry leading greeting card company. That came to an abrupt end when the owners announced in July of 2015 that they would be closing their Connecticut distribution center. Once that happened, it was definitely a life changing moment…
It makes you take inventory of just not the obvious things, but who you are as a person. It tests you in ways you could never imagine and with that, I wanted to take this low time in my life, this major change and somehow make a win out of it.
Things do happen for a reason, I'm a huge believer in that. But when you're "in the moment" you don't always see it until a period of time has passed. For me it has always been faith, family, fishing and I knew through faith things would happen for the better.
Fishing has been a passion all my life. Going out on the water has always been my escape. When I'm out there, I really can't think about anything and when the job loss happened I found myself out there a lot. Deep down I always wanted to do something in the fishing industry. When I was younger I did a little taxidermy, made top water plugs and saltwater spoons with my dad, tied flies; he was the one who introduced me to this wonderful sport. We had the ole Starcraft 14ft with the 9.8 Mercury Thunderbolt. He passed away in 2007 but his spirit is very much alive in me and he's with us on every fishing trip. His values, his work ethics and that passion for fishing had always been in my blood and now was the time to do something with all of that.
Frank and I have been friends a long time and being "fishing fanatics" we got to talking and Bang! We launched Loaded For Bass Sudden IN-PACT Baits
Your jig trailers appear to be your feature product. You describe it as the Ultimate Pork Alternative. That is a big claim given all the trailer products on today's market. What makes your trailer a top choice for anglers?
With the diminishing pork products that are now available, we wanted to have a product that would have all the benefits of pork but eliminate the shortfalls. We use a biodegradable fabric… fabric you say? Yep. Our material not only absorbs a lot of scent, but holds it unlike soft plastic. One of the issues with soft plastics is that when you spray them with scent, it flies off on the first cast and must be reapplied quite often as it gets washed off during the retrieves. The fabric holds the scent longer and allows the bait to leave continuous scent trials.
The material also allows the trailer to be very supple. When a fish grabs on, it's a natural feel for them and they get a burst of scent. Durability was another area we addressed. The fabric is very strong so folks won't have to worry about having a trailer tear off. Actually, we have saltwater charters fishing our Striper Viper and Pact Strips and going all day on a single bait catching blues, stripers, cod and haddock… Now that's durability.
You also sell other baits like spinnerbaits but I didn't see jigs. If I am correct that you don't sell jigs, what are your favorite jigs to fish your trailers on?
At the present time we don't sell jigs. The football jig is on the top of the list for being a favorite. Fishing deep water with gravel structure and having the jig sitting in that upright position and dragging it on the bottom with a trailer can be lights out. Swim Jigs are another favorite due to their versatility and the way they imitate shad is great when a subtle presentation is needed over a spinnerbait.
How would you describe the different conditions that anglers would specifically choose each of your main trailer styles, frog, craw and strip?
For pitchin' and flipping in shallow water and during cold water conditions our Classic and Jumbo Frog shape is a proven choice. The Craws have been really producing in both shallow and deep water. The Pact-Strip and Striper Viper are great for the saltwater angler as they can use them the same way pork was being used. Also, we have musky and pike anglers that use them on spoons and bucktails. I use them on large spinnerbaits when I want a longer profile or if I'm slow rolling. Our Finesse Frog is one of our smaller trailers and it's a great match for hair jigs.
I really like how you keep your colors relatively simple. How important do you feel color is in trailer selection?
I believe there are some proven basics we need to follow. Use darker colors in dirty or stained water to give a good silhouette and in clear water use more natural colors.
An interesting story, over the past year we went to local bass clubs and tournaments, handed out sample packs of our baits and asked what colors they preferred and why.
Blue, green, brown, black were all on the top of the list. But to our surprise, the overall result was "confidence in past performance." It was clear that the importance of trailer color was in direct relation to the confidence each person had in that bait. What I mean by that is if you have confidence in throwing a blue jig with a red trailer, you're going to fish that jig in a way that provides the best presentation possible. You're going to be fishing methodical. You won't change up as often. You'll be more selective in the water you're fishing and so on.
We had a few guys that said only throw blue on this particular lake but if you're fishing the river make sure you're throwing brown. I noticed that with myself. I throw our green pumpkin Crazy Gauge Spinnerbait with our red Finesse Frog trailer, crazy combo right? But it produces for me. I have that confidence to throw it on a regular basis. Just think back to those days when a buddy of yours…and yes it's only funny when you're the one catching…is hammering fish and you're struggling. You start fumbling around, make two casts with a jig, put that pole down, grab another with a crankbait, make a few casts then put it down, grab a topwater, make two casts, put that down grab a rod with some soft plastic. You're fishing fast, changing baits, changing colors all with no confidence. So with that, color plays a role, but "confidence in the colors" you're throwing, wow, that can be a game changer.
You have some of your trailers in yellow. I have never used a yellow trailer. When do you find yellow most effective?
The yellow trailer all came about when I buddy of ours had a white and yellow ChatterBait and asked us, you have anything in yellow? Frank and I looked at one another and said "Give us a day." We got one in his hands, we saw the results and that's all we needed. And if you're wondering, yes, we all now have yellow and white ChatterBaits! Yellow seems to be most effective on sunny and what I call thin cloud bright days in clear water. It's a great color to pair up with white jigs, spinnerbaits and ChatterBaits. A cool thing we offer on our website is that we have a Customized Bait Trailer section where folks can request specific colors, shapes and sizes… If you want a purple Frog we'll make you one.
What products are on the horizon for the company?
As you mentioned, trailers are our featured product, and we will be expanding the lineup with new shapes and sizes, but we're also working on actual baits. We have a "Scent Shad" and a "Juice Tube" that we are currently dialing in at this time. We're really excited about that. Also, we have been working on expanding Trailer Fishing Techniques. What's that, you ask? I think at times, the mindset of a trailer is, "it's a trailer" it goes onto a lure; just an addition. One of my buddies rigged our CrenCraw with a jig head and the text messages came in with photos of him landing smallmouth… We thought, what if? Take our Split Tail and use a weed guard hook and fish it in the cover. Carolina rig our Classic Craw. Use a bullet weight with the Beaver Tail. The "What if" turned into be "Oh my gosh!" In the future we want to introduce these new ways to fish our trailers.
What have been your most proud moments being associated with the company?
Wow, that question hits a nerve in such a good way… so many things to be proud of and thankful for. The people I have met. People reaching out to us to learn more about our products and who we are, not only as a company, but as fishermen. But if I can, I would like to share this one story that brings it all together for me.
I was testing some frog trailers at this pond not far from my house. There were a few people scattered along the pond's edge and this young kid, about 12, caught my eye across the way. He was fishing by himself, just working his way along… and before I knew it, I hear from behind, "Excuse me, sir… you wouldn't happen to have a soft plastic worm I could buy off you? I lost my last one"
I said, "Ahh actually I don't, I'm just testing some frog trailers, but if you want, I can rig a couple of these for you, just cast them out and hop them back… and you can have 'em."
His eyes popped out of his head "Sure!"
So, I got him all set up. He thanked me and continued to fish along the shore. A little bit of time went by and my testing was done… here I am, putting my rods in the back of my truck and when I look up, I see this kid running towards me across the gravel parking lot, rod in one hand, backpack half slung over his shoulder and a largemouth in the other hand. In pure excitement, he trips himself up, falls and slides on the gravel. Rod goes flying, backpack breaks open, drops the fish. He gets up quick, grabs the fish and rod, grabs this older used IPad that came out of his backpack and comes over to me… "Sir, can you unhook this and take a picture of me to show my friends? They don't think I ever catch anything"
"You OK? You're scraped up there."
"Yeah, I'm OK… here, just tap the screen button on the top"
As I centered up the shot, not only did I see that young kid, but a flashback to myself… The smile on the face… the pride he expressed… "This is great! Thank you! Can you watch my stuff? I need to get this fish back into the water." There on the gravel was his rod and reel with our frog on the end… and I quietly said to myself, "That kid is what this is all about…"
Stories like this are exactly why I love supporting companies just like Loaded for Bass. Thank you Jim for filling us in about your passion.